Throughout the 2020 to 2021 school year, WQHS Radio's Station Librarian Leah Van Dyke invited members of the WQHS community to submit a picture of their favorite physical forms of music whether that be a CD, Vinyl record or 8-track and to discuss what this music meant to them. These submissions were featured on the WQHS Radio Instagram. In honor of the Library Project returning for fall 2021 semester, we are featuring last year's submissions.
We hope that you are inspired by these contributions and we hope to hear about the music that YOU love. Submit a photo of a form of physical music that is meaningful to you and write a little something about what it means to you. You can email it to Leah: leahvan@sas.upenn.edu or follow the instructions posted on our Instagram page! One person we be chosen on December 23rd as the winner, and will win a $25 gift card to the music store of their choice.
Spring 2021
Songs in the Key of Life by Stevie Wonder
Submission by Scott Hanson
What is there to say about Stevie Wonder's grandest, most culturally significant record that hasn't already been said? While I am not sure I have too much to add to the significant amount of writing that has been contributed by critics in the past, I'd like to take this time to explain how this record was significant at the time it was released and highlight some of my favorites on the album.
For starters, when Stevie was writing Songs in the Key of Life, he was in his artistic bag. Before Stevie released SITKOL in 1976, he had a nearly perfect set of releases, which critics would say began in 1972 with his release of Talking Book (though I adamantly believe this "Classic Period" starts with 1971's Where I'm Coming From). From his three albums prior to SITKOL, Talking Book, Innervisions, and Fulfillingness' First Finale, respectively, Stevie had won a combined nine Grammys, and each peaked in the top 5 on Billboard's Pop charts. Thus, fans and critics alike were expecting a stellar release from Stevie in 1976 when he finished his double-album, SITKOL. And they got it.
The sounds and message of this album obviously mean a lot to me, but it is also significant personally. Stevie Wonder is my mom's favorite artist and she had the privilege of experiencing this record when it first came out, and she passed her love for it down to her sons. In 2015, my mom, my brother, and I were able to attend Stevie's Songs in the Key of Life Tour at the Wells Fargo Center, where Stevie sounded as great as ever. The record was a staple in our household growing up, and it's definitely an all-time favorite of mine.
It was difficult for me to choose just a handful of songs to chat about in this review, but I have to start with the incredible introduction, "Love's in Need of Love Today." A sweet, but precautionary song, it urges the listener to counter the growing forces of evil today in society with love. This sort of guiding, cautionary tone is common throughout the record, as Stevie really seeks to alert the audience to potential problems that he is truly concerned about in society.
The third song, "Village Ghetto Land," is a highlight for me, because of its poignant political commentary. He paints a picture of the typical urban black ghetto in America, speaking to the common ailments associated with those communities, and rips the politicians that either turn a blind eye or enforce this way of life on so many people in America. He ends the song by addressing a popular attitude that many ignorant morons have in this country that the residents of "Village Ghetto Land" should appreciate what they have and be 'glad' to be there, to which he asks, "Tell me, would you be happy in Village Ghetto Land?"
"Sir Duke," is what the kids call a "banger": a horn-filled bonanza dedicated to the late Duke Ellington and other pioneers in the jazz genre. The song is iconic for its booming brass part and for Stevie's characteristic incredible vocal ad libbing at the end of the song.
"Knocks Me Off My Feet" is the seventh song on the record, and it really feels like a song that could be on Innervisions, because of the way it alludes to various, mystifying romantic experiences he envisions with an unnamed lover. Given that it does indeed remind me of Innervisions, my favorite album of Stevie's, this song is a real highlight for me.
"Summer Soft" comes in toward the end of the first part of the album, and sees Stevie Wonder detail the fleeting feelings of love come and go, just as the seasons pass quickly and flow into one another. The instrumentation on the song fluctuates, too, just like the seasons and as lyrics indicate, going from soft piano for the delicate verses, to a loud, funky part driven by organ and bass.
The second part of the album kicks off with "Isn't She Lovely," which was a smash hit at the time the record was released, but I'd prefer to talk about the second song that follows it, "Joy Inside My Tears." "Joy Inside My Tears," like some of Stevie's other songs, begins as a standard song in terms of its format—verse-chorus-verse-chorus—but then it has this several-minutes-long outro which features some of my favorite recorded Stevie vocals ever. He repeats the chorus with such passion for so long with so many different iterations that it really reminds me of gospel music from a church.
"Black Man" follows directly after "Joy Inside My Tears," and it really is Stevie giving a history lesson about the achievements and important moments in history that should be better attributed to black and brown figures. In the first lyrics, he even shouts out Crispus Attucks, the black man who died in the Boston Massacre, and perhaps the first martyr in the American Revolution? Surely this is the funkiest history lesson ever.
I think "As," the sixteenth song on the record, is my favorite Stevie Wonder song, out of all of his records. At a surface-level, the song shows Stevie serenading a lover, whom he will love unconditionally forever, "until we dream of life and life becomes a dream." Many have speculated that the song is about God's love for people, but really the most important part of this song is the instrumentation and Stevie's absurdly great vocal parts. The piano is played by all-time pianist extraordinaire, Herbie Hancock, and Herbie sprinkles these amazing little improv piano parts that act like ad-libs in the first part of the song, just as Stevie is slowly setting up the climax of the song. After two verses, the repeating chorus descends into Herbie's piano and the humming of background singers, until the vocals triumphantly return with a warbling, heartfelt bridge part—probably the best vocal effort on the album as a whole. Overall, this is just a brilliant song with incredible musicianship, embodying everything that makes Stevie Wonder one of a kind.
The last song I want to speak about is "Another Star," just because I love salsa music and I think it's so cool to see a guy like Stevie Wonder totally embrace the sounds of salsa, fusing it with popular disco melodies and instrumentation as well. He riffs for over eight minutes on this song about his endless love, but it's clear that this song is all about the trance-inducing Latin rhythm and brass parts, with the icing on top being the flute solo at the end of the track.
This album means so much to so many different people, so I hope I was able to provide some sort of unique perspective as to why it means a lot to me, and why it's one of the most important albums of the 1970s. It went on to win four Grammys, including Album of the Year, and it also debuted at number 1 on Billboard's Pop Albums Chart. Despite critics disagreeing on which album is his best, most of Stevie's fans concede that this is his most culturally significant album.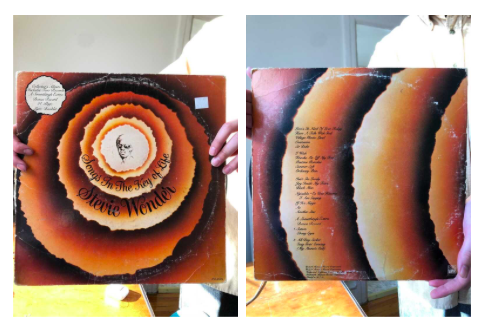 2. Aretha Now by Aretha Franklin
Submission by Sharon Zea Rincon
I believe I bought this record in a small town in upstate New York on a long drive with my good friend Jeremy during fall break of 2019. It was the town he was born in, Kingston, New York. I had never driven so much and I just had a wonderful journey (while not driving because I am a bad anxious driver lol). But I actually never got to listen to the records for months because I left it at my boyfriends apartment in Montreal (our end destination). It wasn't until he finally finished school and moved back to philly that I got to listen to it which I think was another special thing about his return home.
listening to this, it's obvious why Aretha Franklin was called the Queen of Soul. Aretha Now was released in 1968, at the height of her career. It's full of nothing but uplifting bops that u can groove out and dance to. I feel really lucky that "I Say A Little Prayer For You "is the second song on this album, one of her most popular songs which is an incredibly wonderful song. God at 2:11, her range. Insane. Interestingly, she starts and ends this album off singing about themes of freedom. The first song Think, is heavy with the message of becoming free and letting go of negativity which can affect yo mind and those around you. In "I Can't See Myself Leaving You," it's a love song where she mostly sings about her inability to envision herself leaving someone she loves, but adds that they are through, as she's the one in control. Ultimately, Aretha Franklin is an iconic singer who's positive message inspired thousands of Black Americans at the end of the Civil Rights Movement in 1968, but also inspires me today to be a more positive and confident human being.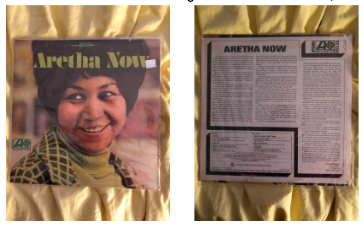 3. (The) Best of the Animals by The Animals
Submission by Leah Van Dyke
So this album was actually one of the first albums I ever bought for myself from a record store (so I've had this one for a while). The Animals have a very blues-heavy sound that I just LOVE and Eric Burdon has an amazing deep, powerful, and extremely recognizable voice (like "House of the Rising Sun"? His voice just fits so Perfectly!)
This is a Greatest Hits album, so many of the songs are actually covers of songs from other artists. For example, "Bring it on Home to Me" is a Sam Cooke song (and one of my favorites), and "House of the Rising Sun" is actually a traditional/ historical song.
Some of my favorites off the album include: "It's my Life", "Don't Let me Be Misunderstood", and of course, the classic: "House of the Rising Sun". This is a very rock and blues heavy album, which I adore. Definitely recommend it if you want to get to know more about the Animals' sound, or are a fan of House of the Rising Sun and would like to hear some more songs sung just like it!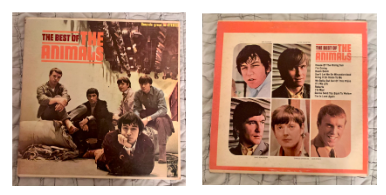 4. Hybrid Theory by Linkin Park
Submission by Ryan Martin
I remember walking into the back of the Barnes and Noble near my grandparents' house in Pennsylvania with my father and him picking this CD out of the sea of cases on the rack. My young self had never been exposed to Chester Bennington's melodic voice, but that would soon change as my dad put the CD into my dad's car and cranked the volume all the way up. To this day, I still love listening to Linkin Park, and even had the opportunity to see Mike Shinoda in concert.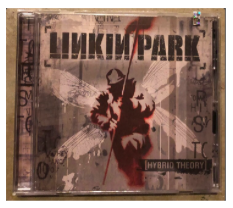 Fall 2020
America By America
Submission by Leah Van Dyke
This vinyl used to belong to my Grandparents, and I remember when I was going through their old vinyl collection, I recognized the song "Horse with No Name" on the back cover and figured this was an album worth holding on to—and oh boy was I right! This album was released in 1971, originally without the song that initially drew me to keeping it: "A Horse with no Name", but after the commercial success of the single, it was re-released with the track. The album hit number 1 for 4 weeks, with another hit single, "I Need You" peaking at #9 on the billboard charts. Recently my boyfriend and I have really enjoyed listening to America's soft rock/ folk music while working or hanging out on a sunny day. There is something just so comforting and peaceful about their music, and I 100% recommend it if you like the more folk-y rock sound of the late 60s and early 70s. (My boyfriend and I love to listen to two of their other hits: "Ventura Highway" and "Tin Man" together, and I would recommend that if you have a hiking playlist, you add some of America's music… wonderful for little granola bar breaks and enjoying the view!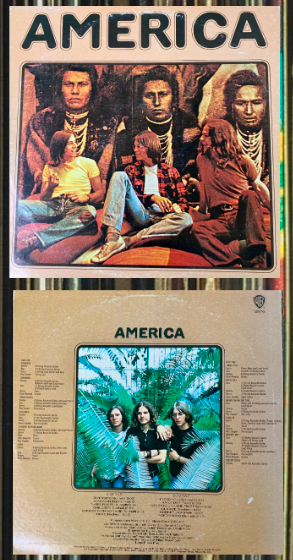 2. My Dad's Cassette Collection
Submission by Eva Riccio
This photo (shown below) shows a part of my dad's cassette collection, a staple in my music upbringing as a child. We have always driven older cars that still have cassette players, and long car rides were always filled with the sounds of one of his tapes. I most vividly remember Billy Joel blasting through the speakers, and am nostalgic when I listen to it today. Though I don't remember all the bands he played, I think it influenced me later on in my developing music taste. Around 15, I started to become really interested in the 60s and music of that era. His tapes of the Beatles, the doors, and Fleetwood Mac reflect that budding love for it. My dad still has his first car, a 1969 Chevy Malibu, and he would play his Woodstock recording in it as we drove back from the beach and through town; it is an experience that transports me back in time through music to this era. Overall, this music represents the early influences of my current music tastes and my bond with my dad over this love of the 60s.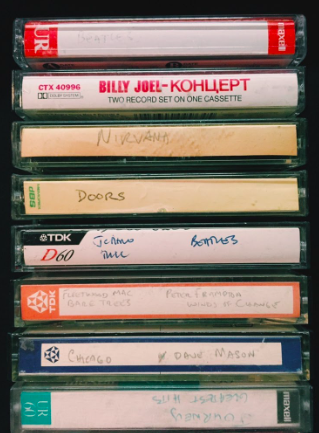 3. School House Rock! by Disney
Submission by Dustin Brown
School House Rock has always held a special place in my heart. As a kid, it taught me about everything from multiplication to grammar. I still sometimes hum the nervous system song to myself, and I would gladly listen to School House Rock again!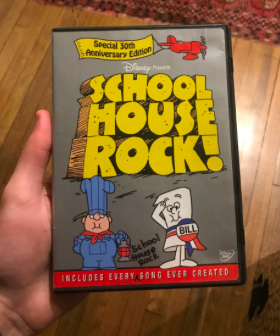 4. Beggars Banquet by the Rolling Stones
Submission by Alex Farkas
We have a UK 1969 mono 1st press of the Stones Beggars Banquet — this is notable from other 1969 UK presses by the laminate (rather than cardboard) gatefold cover as well as the full stops between G.E.M.A on the label (attached in picture). This record is iconic with smash hits like Sympathy for the Devil, but amazing B-sides like "Salt of the Earth" and my favorite track on the record, "Jigsaw Puzzle". Really excited to take this to my set-up at home and hear how it sounds; the album was recorded in true stereo and the mono release is just a fold-down of that. I've already got a great mono press of this record from the 2016 Stones in Mono Box Set, which was digitally sourced from the amazing 2002 ABKCO SACD masters, so I can't wait to compare that to the analogue original. I was really shocked to find this in a local store at 10% what it sells for on discogs; it's absolutely a keeper and centerpiece of my Stones collection.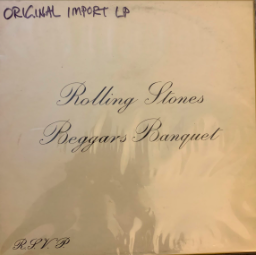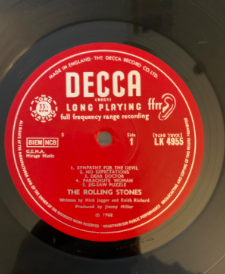 5. Let it Bleed by the Rolling Stones
Submission by Alex Farkas
Next we've got a minty 1969 UK Stereo (2nd press) of the Stones' Let it Bleed. This came from the record store owner's personal collection, as he decided to sell it after finding a clean mono UK press. From an audiophile standpoint, I'm not sure If I would have dumped my stereo copy for a mono one; just as with Beggar's Banquet, the mono of Let it Bleed is also a fold-down of the true stereo recording. Regardless, I can't wait to hear how it sounds. It's missing the poster, but both the media and cover are minty minty and it was a great price, so I'm stoked to add this one to the collection. Standout tracks for me are "Love in Vain", "Let it Bleed", "Country Honk", and YCAGWYW– I would play these street-performing back home in Maine as my summer job.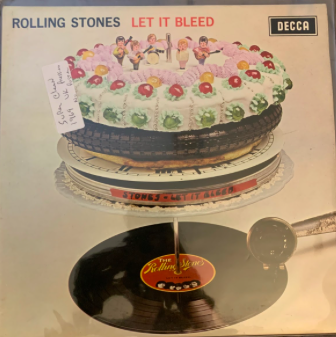 6. The Complete Recordings of T-Bone Walker 1940-1954
Submission by Alex Farkas
Finally we've got the Mosaic collection of T-Bone Walker's early years. Mosaic is a label well known to audiophiles and jazz collectors for their 90s reissues of entire session tapes of many famous jazz and blues musicians. These sets are pretty hard to find, especially at reasonable prices, so when Sit&Spin records in South Philly posted a photo of this on their instagram last week, I ran straight to SEPTA to snag it. This 9xLP collection spans all of T-Bone Walker's early recordings; he's a blues legend and inspired all the greats (from Buddy Guy to John Lee Hooker, to Duane Allman… everyone lol) with these songs. Really excited to give this collection the spin time it whole-heartedly deserves– hoping for many Stormy Mondays to stay and spin this bad boy.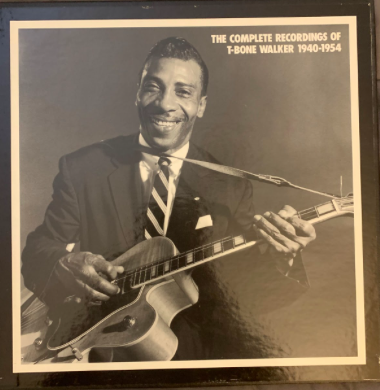 Note: Submissions were edited for clarity.
Featured image by Leah Van Dyke