Enigmatic and legendary, electronic music duo Daft Punk split up February 22nd 2021. A 28-year-long career leaves fans with four studio albums packed to the brim with timeless classics such as "Around the World", "Harder, Better, Faster, Stronger", "Human After All", and of course, "Get Lucky". To truly understand their legacy on music, let's turn the clock and take a look at the history of the group.
While attending high school in Paris in the early 90s, Guy-Manuel de Homem-Christo, Thomas Bangalter and another classmate created a band called Darlin'. They released one rock 'n roll-esque EP. In a historic review, their music was characterized as "daft punky thrash" and the pair decided to split from their classmate. After attending a rave and falling in love with the concept of mixing music live, they started experimenting with drum machines and synthesizers. Soon thereafter they exploded onto the scene with their debut EP, The New Wave. They continued to find success with "Da Funk" and eventually signed with Virgin Records. Finally, in 1997, Daft Punk released their debut album Homework which changed their personas forever. After going on a small tour, performing as themselves, they felt their fame growing and despised it. They didn't want their personal lives to be interrupted by their work in the music industry. Daft Punk wanted their music to be in the spotlight rather than themselves and began wearing makeshift masks to interviews and photoshoots. Eventually, the duo shelled out $65,000 each for custom masks that would turn them into the robot icons we know today.
Skipping ahead to 2001, the group released Discovery. This concept album was much more polished than Homework and the duo described it as a reflection of their childhood memories. This album charted in 19 countries and broadened Daft Punk's appeal internationally. The duo's next album, released in 2005, Human After All was a commercial misstep, and their plans for a tour were sidelined. However, after Coachella offered them six-figures upfront to perform in 2006, Daft Punk decided to take the offer. In a recently published interview, the duo says that the reason they accepted the gig was to take the show to the next level and there is no doubt that that is exactly what they did. The 2006 Coachella set reportedly exhausted the entire United States supply of LEDs and included 15 tons of equipment. It is widely regarded as the greatest Coachella performance of all time. Forty-thousand people packed into the 10,000 capacity tent and nobody had any details about the performance, including Daft Punk's own tour manager. When their set finally began, curtains gave way to reveal Daft Punk's custom-built stage: a massive pyramid containing the musicians. The awesome show led to Daft Punk's comeback and the explosion of dance music in the United States. Following the Coachella performance, Daft Punk toured internationally throughout 2006 and 2007 and went on to release a live album, Alive 2007, in November of 2007. It features one of my favorite mashups "Around the World / Harder, Better, Faster, Stronger".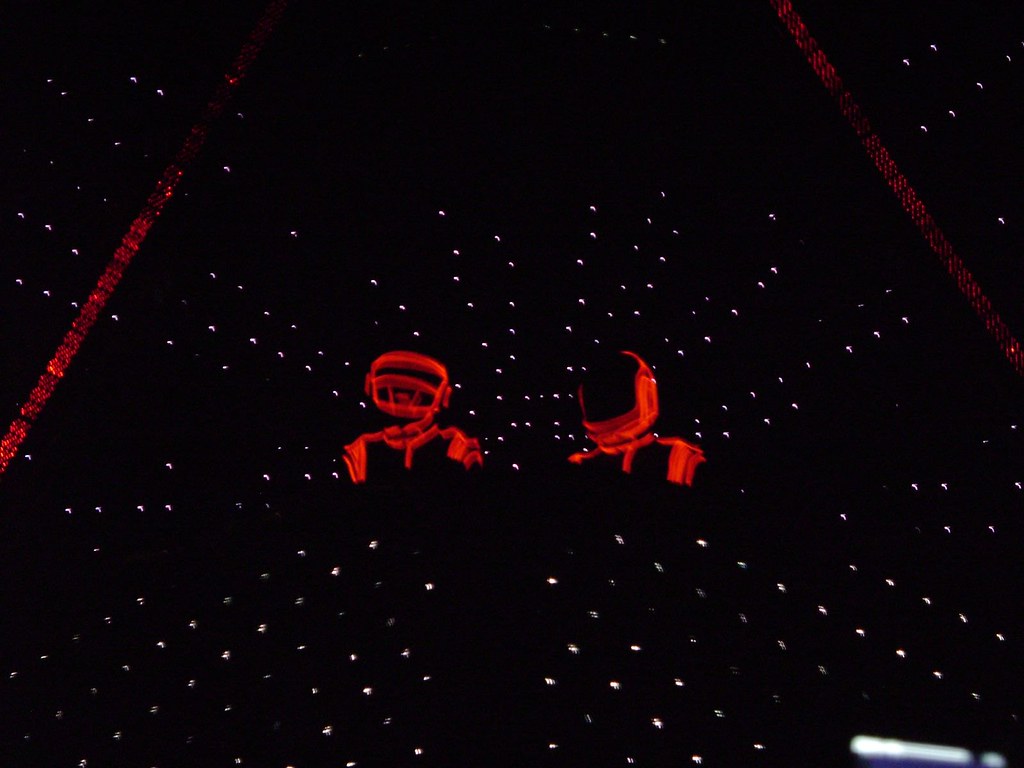 Daft Punk continued to challenge themselves artistically by composing the soundtrack for Tron: Legacy. In their final album, Random Access Memories, the band demonstrated their skilled ability to collaborate with others and employ live instruments. The inspiration for the artistry on the album came from Daft Punk's feelings that electronic music had become too formulaic. They claimed in an interview with Rolling Stone, "Everyone making electronic music has the same tool kits and templates. You listen, and you feel like it can be done on an iPad. If everybody knows all the tricks, it's no more magic." Daft Punk wanted to create a timeless and authentic album by using live instruments and limiting the use of technology. They collaborated with an impressive range of musicians that included legends like Giorgio Moroder, otherwise known as the Father of Disco, Niles Rodgers, co-founder of Chic, and contemporaries like Pharrell Williams. In keeping with the theme of vintage, Daft Punk promoted the album via billboards in Hollywood and other major cities. When Random Access Memories was finally released in May of 2013, it charted in 30 countries, earned the duo 5 Grammys, and cemented the duo's place in music history. Personally, this is one of my favorite albums of all time.
Following the Grammys, Daft Punk retreated into hiding and refused to interact with the media in any way. Over these past few years, the pair collaborated with artists such as Kanye West and The Weeknd, producing songs sporadically. However, most people don't know who the two men are behind the robotic masks. But frankly it doesn't matter. The music speaks for itself:
"I'll just keep playing back
These fragments of time
Everywhere I go
These moments will shine"
Check out Sagar's Daft Punk Sampler Playlist here.